The bride's day doesn't begin when she walks down the aisle, and it doesn't begin when she puts on her dress... it starts long before that with hair, makeup, and brunch while overseeing the culmination of her wedding vision with the flurry of vendors who are there putting it all together at long last. To make sure that this part of your day is documented beautifully, here are a few tips...
1) A clutter-free room is a beautiful room. Keeping certain areas of the bridal suite clear of water bottles, bags, piles of shoes and solo cups make for a more classy and timeless set of images...
2) Have a little help from your friends... A happy and smiling bride makes for the most special images, and being surrounded by your best friends while getting dressed makes it just that much more fun! So gather those 'maids around and let everyone play a part in getting you ready to walk down the aisle!
3) Have a special reveal for your besties! This bride waited for the perfect moment to reveal her dress on to all her girls at once! It made for such a special image of this genuine moment!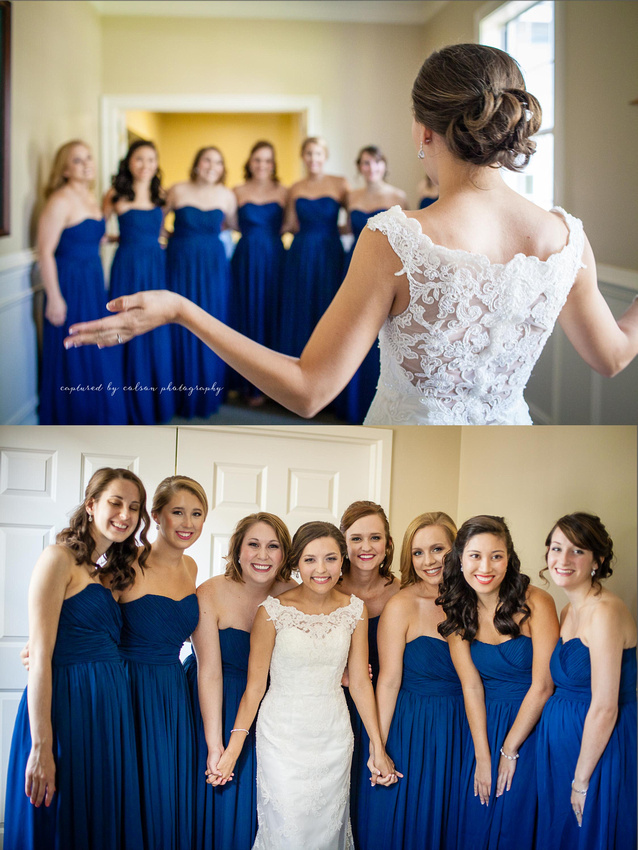 4) Fresh, natural light creates the perfect type of illumination for the bride! (And a huge mirror never hurt either!)
5) Give your ladies something adorable (and comfy!) to get ready in! I love the trendy options of the multi-floral kimono, they are beautifully soft and silky! Another option that I'm sure you've also seen is the oversized button-down shirts - also a cute choice! What if you took it a step further and did plaid flannels for a fall/rustic wedding, neutral cotton robes for a spring wedding, or even a full silk pajama set for an upscale resort or hotel wedding?
6) Plan for a little extra fun! These groomsmen ventured into the bridal suite to bring some bubbly for the bride as a gift from the groom. The girls had a great time popping the bottle open, toasting and sharing a few laughs to relax the day and ease anxiety.
7) If your venue doesn't have a spectacular place to get ready, a favorite salon can be a great alternative! It is an easy way to get a lot of attendants' hair and makeup done in a timely manner!
8) Sending and receiving a special gift or letter between the almost-newly-weds is a perfect way to calm some of those butterflies and relish in the moment even more! And they make for really meaningful images in the documentation of the day!
9) Get mom involved! If you and your mother (or step-mother, or grandmother...) are close, this is a really perfect opportunity to have one last mother-daughter-moment before you walk down the aisle and officially out of her 'nest'.
10) Location, location, location. Picking a venue should have just as much to do with your "getting ready" area as it should the ceremony site. Ample space for your bridal party and their belongings, your Hair + Makeup Team and their gear is vital! Getting ready at a friend's house or even your childhood bedroom could provide a sentimental backdrop, adding even more beautiful emotion to the images captured.
Want more wedding tips? Click here for my Top Five Tips to a perfect engagement session!
Lindsay Colson, photographer and owner of Captured by Colson Photography, is a Valdosta, Georgia based photographer who specializes in plantation and farm weddings in the southeast. To inquire or get more information, please contact her: [email protected]
Want to know more about Lindsay and her photography? Wander over here...